Taiwan Taipei City
The largest city was for a long time – Taiwan Taipei city. The majority of Taiwan's – close to 24 million people – live in just six major metropolitan areas. As of 2011 though, this has changed as the surrounding area around Taipei city has been upgraded from a county to its own city. Bumping Taipei down to second. Taiwan is one of the most densely populated nations on the planet and its cities are bustling, noisy but exciting places. Here's a quick overview of the major cities Taiwan.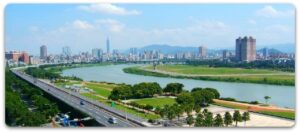 Taipei City is the capital of the Republic of China on Taiwan. The city itself has a population of around 2.6 million people, but when neighboring New Taipei City is added together into a greater Taipei metropolitan area, the population figure is almost seven million. Although there is evidence some ancient aboriginal tribes lived in the area, Taipei City only began to truly take form as an important trading outpost in the 18th century. Taiwan was ruled by the Empire of Japan from 1895 to 1945 and some sections of Taipei City retain buildings from the colonial era. Otherwise, the city is a modern metropolis with an excellent subway system and great shopping and entertainment venues. Taipei City and Taiwan in general, might be most famous however for a wide variety of excellent culinary choices.
Pinyin: : Taibei
Chinese:

English pronunciation: Tai as in Thailand / Bei as in Bay / Shi means city in Chinese and is pronounced quite close to the English word sure.
Literal meaning: Northern Taiwan City
Taiwan Taipei City is the most developed cities Taiwan and is home to the largest percentage of expatriates. While dust storms blown in from mainland China can sometimes clog the air, Taipei has made good strides in improving air quality. The main source of air pollution in Taipei City are the literally hundreds of thousands of motor scooters that travel the streets – rush hour can be quite toxic. Taipei City has four seasons, but spring and autumn are rather brief. In April the temperature rises to just under 26°C (79°F) and on some days in July and August the mercury can hit 38°C! January and February are the coldest months, but if you're from North America you might not think 19.5°C (67° F) is all that cold. The average temperature for the year is around 27°C, but with extremely high humidity newcomers are often surprised at how hot it feels.
Taipei City is divided into 12 districts, several of which are more "happening." And its well developed underground system (MRT) allows you to travel taipei easily. NeiHu District is considered a good residential area, while the XinYi District boasts some of the trendiest shopping, nightlife and dining options. Other popular districts for sightseeing and other tourist attractions are ShiLin and BeiTou. Taipei City is also the base for several major universities including the National Taiwan University (better known as TaiDa) and National Taiwan Normal University (better known as ShiDa). The neighborhoods surrounding these universities are filled with youth culture, night markets, bars and other establishments. Find more details on taipei attractions here.
If you only have time to visit one of cities Taiwan, Taipei offers an excellent choice. For a more authentic Taiwanese experience however, you'll need to leave the capital city behind. Perhaps Kaohsiung is a more "Taiwanese" experience.