Taiwan Taichung City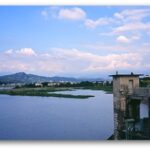 Taiwan Taichung City is now sometimes called Greater Taichung after it merged with Taichung County in late 2010. With a population of 2.6 million, Taichung is Taiwan's third-largest city. (A few thousand more people live in Taichung in than the capital of Taipei.) The city retains its Wade-Giles phonetic spelling, and many foreigners mispronounced name of the city as TaiCHung, but the second character in the city's name is actually the same character in Zhong Guo (China ) and means "central" or "middle." The city is in the process of changing its Romanization system to the international Pinyin version developed in mainland China and used in Taipei City but at present, visitors will find two or even three forms of the Chinese Romanization in different sections of the city.
Pinyin: TaiZhong
Chinese:
English pronunciation: "Tai" as in Thailand / "Zhong" sounds like "zuh-ong"
Literal meaning: Central Taiwan City
Taichung City is considered by many in Taiwan to have the best weather of any of the Taiwan cities; summers are less oppressively hot and winters are milder. While Taipei City has the famous 101 Building and the southern port city of Kaohsiung also has several distinct buildings that act as city icons, Taichung City is mainly devoid of impressive landmarks. Instead of mega towers, Taichung City has gone for "soft power" and is trying to become the "cultural capital" of Taiwan. Home to several museums, cultural centers and performance venues Taichung is also famous for its universities, including the famous TungHai University located in the western district of XiTun.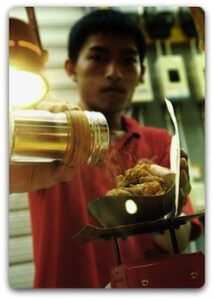 Taichung's museums are perhaps its biggest tourist draw and include the National Museum of Natural Science – which is quite popular with younger visitors because of the many "hands-on" science exhibits available – the Earthquake Museum in Wufong, Taichung Folklore Park, Taichung Winery and the National Taiwan Museum of Fine Arts. Another Taichung attraction are night markets filled with vendors selling every conceivable item — head to the Fengjia Shopping Town for a mega night market experience.
Taichung City is sometimes stereotyped as a "gangster" town as in previous decades its central location proved perfect for meetings and connections between underworld organizations in Taiwan's north and south. The city has made many improvements in recent years but many residents still complain that underworld activities are responsible for crime. The city is full of KTVs and "barbershops" (which do not actually provide hair-cutting services) as well as other "naughty" nightlife venues but unfortunately there are few decent bars and nightclubs for regular party-goers. After a tragic fire in 2011 in which dozens of people died at an unlicensed club, the city cracked down hard leading to the closure of many nightlife venues.
Taichung is connected to the rest of Taiwan by two major freeways and a high-speed rail station. There is also an airport with limited flights to international destinations. Making Taichung travel quite simple. Taichung's Harbor is the second-biggest port facility in Taiwan. Most people in central Taiwan drive a car or a motorcycle as public transportation is quite underdeveloped. Traffic rules are often disregarded and owing to a toxic combination of high car ownership and poor law enforcement, driving in Taichung City is often dangerous. The public transportation situation is set to change as the city has begun construction on MRT lines, but delays in construction and squabbling could mean the first line of city's subway system will not open until at least 2015.
Taichung city provides a great climate, a central location and access to nearby mountainous getaways. While the city certainly has deficiencies, its drive to become a "cultural capital" has made Taichung one of Taiwan's up-and-coming metropolitan areas.