Taiwan Kaohsiung City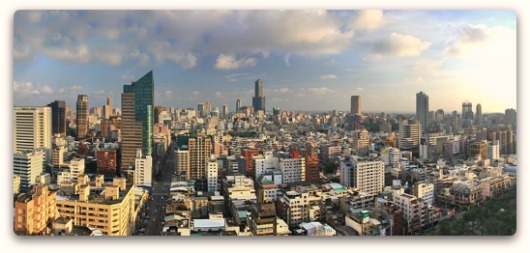 Taiwan Kaohsiung is the second largest city in Taiwan with a population of over 2.7 million. The city is very different in character than Taiwan cities in the north. It is a center for the expression of a more "Taiwanese" ethnic identity as opposed to northern Taiwan's more "Chinese" characteristics.
Founded as a village in the 17th century, the aboriginal inhabitants give it a name that translated as Bamboo Forest. When Chinese immigrants came to the area however, they imitated the sound of the name but transliterated it into "Ta Kau" which means "beat the dog". The dialect these Chinse immigrants spoke was the Fujianese Chinese (from the Fujian provence in china, see map) dialect that in Taiwan is often called "Taiwanese."
Pinyin: GaoXiong
Chinese:
English pronunciation: "Gao" as in gown / "Hsiung" sounds like she + ung as in "sung"
Literal meaning: High Bravery City
After Taiwan became a Japanese colony in 1895, the Japanese kept the sound Ta Kau as a name for the town, but changed the Chinese characters to the more noble meaning of "high hero" or "high bravery." Today the characters are pronounced in Mandarin Chinese as GaoXiong.
Similar to Taichung City, Kaohsiung merged with its county in late 2010 to become a special municipality. The city is home to Taiwan's largest container port which is the sixth largest in the world, making it a busy sea port and city. As a maritime city, Kaohsiung has long had links with Asia and the world which have contributed to a friendly international atmosphere that is generally welcoming towards visitors. Indeed, many foreigners say they prefer living in Kaohsiung as the city provides a less hectic pace of life and is seen as warmer in character. The foreign community of Kaohsiung city is robust but smaller than that of Taipei and primarily consists of English teachers along with some engineers. When visiting the city, it seem that Canadians and South Africans make up the highest percentage of nationalities in the foreign community.
Kaohsiung has undergone incredible changes of the last 20 years. Designated as the site of heavy industry in the 1950s, Kaohsiung quickly became polluted. In the 1990s a transformation began and today the city boasts many areas that are actually in better condition than many parts of the capital, Taipei. One of the revitalized districts of Kaohsiung is ZuoYing, which is the location of the high-speed rail station (bullet train), a brand-new stadium, Lotus Lake and major shopping and entertainment venues.
Two underground rail lines or MRT lines opened in 2008, kaohsiung travel convenient. In addition to a port, Kaohsiung is connected to other Taiwan cities by two major freeways and a high-speed rail line. Taiwan's second-largest international airport is also located in Kaohsiung and is accessible by MRT. An architectural symbol for Kaohsiung is the Tuntex Sky Tower located in the portside LingYa District. The building has an unusual design which is supposed to invoke the first Chinese character in the city's name. The 85-story tower was the tallest building in
Taiwan for over 10 years until Taipei 101 opened in 2008.
Kaohsiung is located south of the Tropic of Cancer which means it is tropical as opposed to Northern Taiwan which is subtropical. The city sees much less rainfall than Taipei, and although temperatures are usually higher, the sea air blowing in from the coast can lead to a less oppressively hot feeling.
Taiwan's southern capital of Kaohsiung City is a good place for more relaxed pace of life and its ZhongShan University is an excellent location to study Mandarin Chinese. Living costs are much cheaper than in the north, rain is infrequent and within a two hour driving radius there are mountains, Taiwan's only beach resort at Kenting and the ancient city of Tainan. Improvements in infrastructure and a reduction in pollution have made Kaohsiung City a newly attractive location for many.